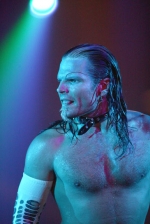 Height: 6'2

Weight: 200

Gender: Male

Hometown: Cincinnati,OH

Finisher: Sucicide Bomb(bacwardz swanton)Atomic Bomb(Super Powerbomb)Anthrax Tackle(The Gore)


Common Moves: 450 splash
piledrive
shooting star press
belly to belly
suplex

Bio: His name says it all. the Extreme one. he has come from iwf to
make an impact on the ftw, but especially th x division. he loves blood and enjoys pain. and if u are in his way you will get your ass kicked. if
u stay away from him he'll find you. Loves to use singapore canes.