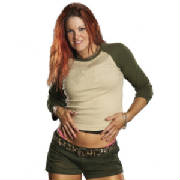 Height: 5'10

Weight: 135

Gender: Female

Hometown: Honesdale, Pennsylvania

Finisher: Sweet Chin Music
Crossface

Common Moves: Frankensteiner
Suplex
Spinning Wheel Kick
Missile Dropkick
Clothesline
Neckbreaker
Snapmare
Hurracanrana
Stomp
DDT
Women's Slap
People's Elbow
Sleeper Hold
Over Castle
Pretty Boy Pin

Bio: Sam has watched wrestling since she was about 4, liking Hulk Hogan, The Rock, and Macho Man Randy Savage. Her brother was into it and her father, pushing her to want to become a Superstar. So, when she turned 18, she dedicated her life to wrestling. Training with Tonic and C.M Punk, she became well known in TNA. When she decided to go for the big shots, she went into the WWE and has been in there for about 2 years.