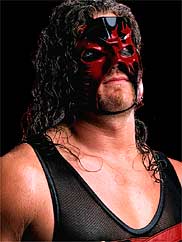 Height: 7'1

Weight: 356

Gender: Male

Hometown: Death Valley, CA

Finisher: Beast Driver(Tombstone Pile Driver)
Beast Slam(Show Stopper)
Beast Boot(Big Boot)
Beast Bomb(Jacknife)
Triple Beast Bomb Pin(Triple Powerbomb Pin)

Common Moves: Scoop Slam
Drop Suplex
DDT
Choke Throw
Spine Buster
Jack Knife
Stalling Drop Suplex
Leg Drop

Bio: At a very young age, The Beast was in a car crash, scaring him for life. He was walking around one day on Halloween. He went to a mask shop, and found a very strange mask. This was his identity.