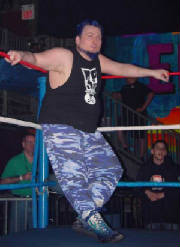 Height: 6'4

Weight: 246

Gender: Male

Hometown: Phillidelphia, PA

Finisher: Wicked Side (Side Effect)
Deadly Assault (Sit-out Power Bomb Off The Top Rope)

Common Moves: Chokeslam
Piledriver
Powerbomb
Big Boot
Double Powerbomb
RKO
Clothesline
Swinging Neck Breaker
Jackhammer

Bio: Used to work in CZW and OVW with The Sick One. When The Sick One quit, so did the Wikked One. Later on, they both joined FTW.