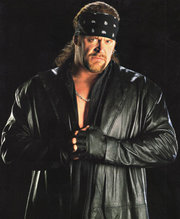 Height: 6'7

Weight: 155

Gender: Male

Hometown: Chicago,IL

Finishers: Nightmare Drop(F-U)
Nightmare Tornado(F-5)
Night Driver(TombStone Piledriver)
Night Slam(Pedigree)
Nightmare Splash(Frog Splash)
Night Cutter(RKO)

Common Moves: STO
Sharpshooter
Powerbomb
Dropkick
DDT
Twist of Fate
619
Chokeslam
Big Boot

Bio: Nightmare was abandoned at the age of 2. His parents left him for dead in an alley. Two days later, a man by the name of Jake Jeckle found him, almost starved. He decided to take him in. Over the next 15 years, the little child became more and more agressive, as Jake Jeckle told him about his past. One day, he found his parents. After seeing that their son was a big strong man, that wanted to take him back. They said that as a child, he was a nightmare. He then fled, never to be seen again, until his FTW debut, as Nightmare.